"Habitat Shows"
"Neighborhood Animals"
Pesky "Digger the Dachshund" won't share his backyard with the underground animals living there! He chases and barks at them until they decide to leave to live next door. When Digger discovers the animals have left, (including even the birds and butterflies), he becomes so lonely he starts to cry a little. "Portia the Portuguese Water Dog" comes over to find out what is going on! She convinces him he will be happy again if he learns to share! The animals return, apologies are made, and they all live together in harmony, Happily Ever After!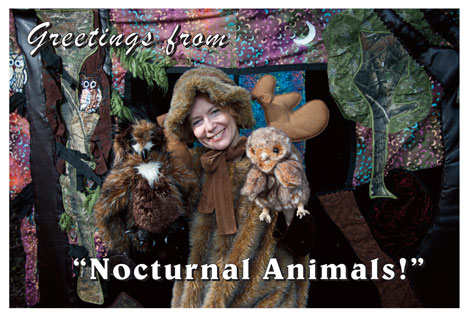 "Nocturnal Animals"
"Sally the Skunk", friendless, because "she's smelly", becomes the hero of the Nocturnal Forest community when she saves "Farah the Fawn" from a hungry Coyote - she sprays him!!! Farah's adopted "Grandpapa Moose", spreads the word of her bravery, promising to protect her from Great Horned Owls (they can't smell skunk spray), and encourages his little Farah to become Sally's friend forever!
"Winter Wonderland"
Sick of munching on winter twigs, adventurous little "Maggie the Moose" sets out to see what she can eat with her many winter friends. Along the way, "Fanella the Fox" offers her a tasty mouse which freaks Maggie out! "Frosty the Snowman" offers her candy canes from a tin, but Maggie exuberantly eats them ALL and winds up with a tummy ache and a lesson in sharing! Finally, friendly "Benny the Beaver," teaches her, she's a "plant eater", she's a "Vegetarian"! Maggie returns to eating twigs and the two crunch Happily Ever After!
"Magical Forest"
Transported to a "Magical Forest" by his Fairy Godmother, she gives him a "Magic Tickle Ball," which he can use to make wishes! ......as long as he is "polite" and says "the magic word." Ridiculous things happen to feisty little "Mort the Moose" when he uses words such as "moosekadabra" and "Hokus Pokus"! Instead of becoming a Butterfly, he turns into a Catterpillar! Instead of a prince, he turns into a frog! On and on, until he doesn't use any kind of magic word, and he turns into a Rock! The audience rescues him, turning him into a Unicorn with the "Magic Word"! (hint: "Please!")!
"Under the Sea!"
"Mort the Moose", while sleeping, is transported by a "Magic Tickle Ball" Under the Sea! Swimming for the first time under the ocean, Mort's adventures begin and he meets various sea creatures. But not all are friendly! After he is chased by a Shark and then by Lobsters, he wants to go home, but how? "Flipper the Dolphin" carries him on his back to an Oyster who has the "Magic Tickle Ball".... but what's the "Magic Word" to open it? (hint: "Please!") Once home, he awakens to find a piece of "Gourmet Seaweed".... was it a dream, or did Mort really go "Under the Sea"????
"Frogs in Outer Space!"
"Franklin the Frog" dreams of space adventure! But what happens when he "hops" a Shuttlecraft to a faraway Frog Galaxy? Ruled by an evil Frog Queen who wishes to take over the universe with frogs, Franklin narrowly escapes, returning to planet Earth with a new-found respect for his diverse animal friends, such as his best friend, "Maggie the Moose"! They all live together "Hoppily" Ever After!
Additional Shows: "Barnyard Friends", "Dinosaur Adventure", "Jungle Fun", "Halloween/Harvest", "Christmas/Hanukah Special".